---
Vehicle inspection and its 3 important notes
1. Pay cold fines before inspection:
If not paid, the cold fine information will be updated on the warning software at the inspection facility, and therefore it can cause the vehicle owners to be refused during inspection.
Currently, drivers can look up whether the vehicle has been fined or not when checking on TTDK app (Inspection Procedures app). Illustrations are included down below.
2. Prepare required documents before inspection:
To prepare a vehicle profile (except for the first inspection to issue an Inspection Certificate and Inspection Stamp with a validity period of 15 days), you need:
Vehicle registration documents (original vehicle registration certificate, or vehicle mortgage receipt at the bank, or appointment letter for issuance of Registration Certificate).
A copy of factory quality inspection card for domestically assembled vehicles (except liquidated motor vehicles)
Original certificate of technical safety and environmental protection quality for renovated motor vehicles (for newly renovated vehicles).
In case the vehicle is inspected for the first time and has not been used as described in Clause 3, Article 5 of Circular 2/2023/TT-BGTVT, it is necessary to provide an additional copy of the vehicle's chassis number and engine number.
Declare the corresponding information specified in Appendix I issued with Circular 2/2023/TT-BGTVT.
3. Maintain the vehicle before inspection:
This helps ensure vehicle's technical issue and safety, avoiding cases of "failed" inspection, which will take time and cost a lot of money. Drivers can use warranty and maintenance services for truck bodies and truck's refrigeration units at 2 maintenance centers of Quyen Auto.
We hope that drivers and car owners pay attention to the above important information so that the vehicle inspection process goes smoothly.
---
For more information about truck bodies, purchasing or vehicle maintenance, you can contact us at:
QUYEN AUTOMOBILE CO., LTD
⭐ Cam Ranh branch: Cay Xoai Village, Suoi Tan Commune, Cam Lam District, Khanh Hoa Province, Vietnam.
⭐ Factory in Long An : no. 550, Hamlet 4, Tan Buu Commune, Ben Luc District, Long An Province, Vietnam.
✨ Tel: (0272) 3769 020 – (0272 ) 3769 022
💖 Sales Hotline: 0908 109 929
💌 Sales Email: kd01@quyenauto.com
Recent Posts
March 21, 2023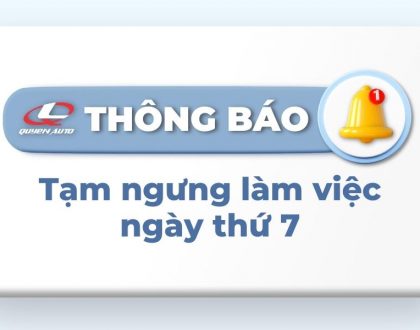 March 15, 2023